The Round Head rock art in the Central Sahara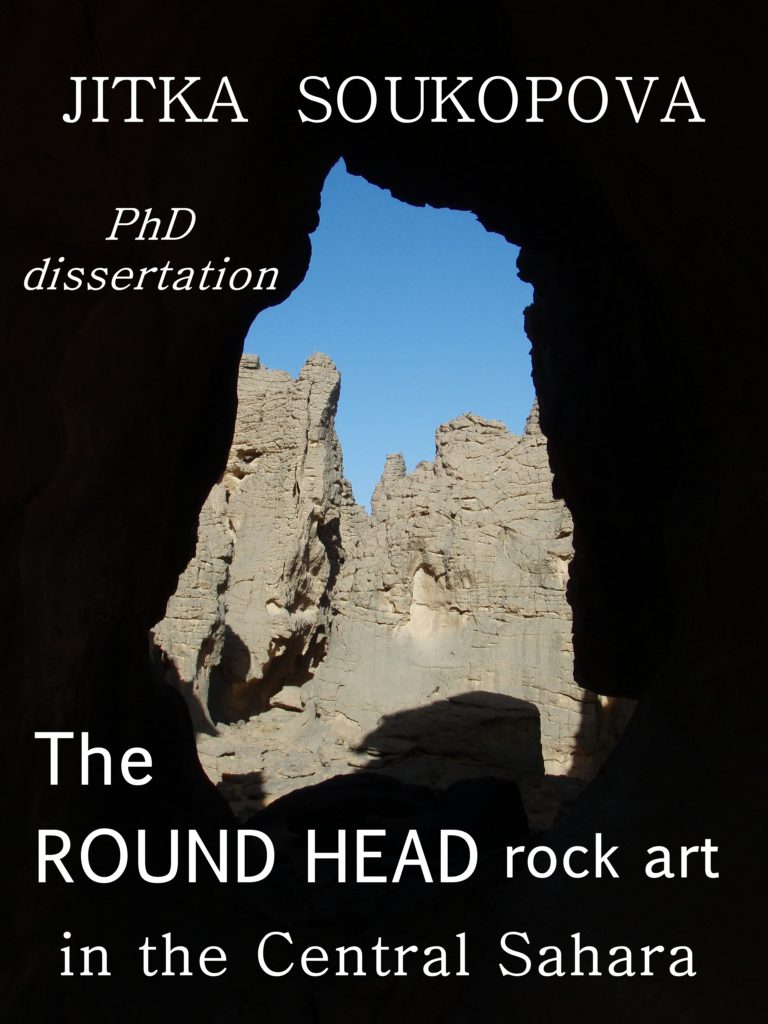 A dissertation submitted to the University of Bristol in accordance with the requirements of the degree of Doctor of Philosophy in the Faculty of Arts. Department of Archaeology and Anthropology, April 2011.
80,369 words; 185 pages; 174 illustrations.  Format: Pdf.
Abstract
The Central Sahara is one of the richest regions of the prehistoric rock art in the world. The earliest paintings called the Round Heads were created in the Early Holocene by groups of dark-skinned hunter-gatherers who produced their paintings in the mountains of the Tassili n'Ajjer, Algerian Tadrart and Libyan Acacus. Since their discovery in the 1950s these paintings have been described and classified but they have not yet been studied systematically, their chronology has not been established and they have not been related to the archaeology.
The study of archaeology, climatology and the rock art not only in the Central Sahara but in all African continent resulted in confirming the so called high chronology of the Round Heads which originated in the 10th millennium BP. It also revealed that this art did not finish with the arrival of pastoral population in the 8th millennium BP but the two artistic traditions coexisted until the complete desertification of the region. The results are based on a critical evaluation of existing literature and on fieldwork undertaken by the author in the key sites.
Unlike the southern African rock art, the interpretation of the Round Heads has not been undertaken before because it was considered inappropriate and unachievable. The method of research presented here has not been previously applied to the rock art in the Central Sahara. Using the comparative studies, ethnography and landscape archaeology this thesis approaches the interpretation of the Round Heads and the painted sites as a pioneering work placing them in a wider African context.
The first volume of the thesis presents the general overview of the rock art, archaeology and past climates in the Central Sahara, and the results obtained from the fieldwork. The second volume is an Appendix presenting each site studied during the fieldwork which constitutes the basis for the synthesis presented in the first volume.
Note: the 2nd volume of the dissertation, the Appendix, is included this online catalogue.
Contents
Chapter 1. Introduction
Chapter 2. The study area, climate and archaeology
Chapter 3. Rock art in the study area and problems with the chronology
Chapter 4. Evaluation of fieldwork data
Chapter 5. Chronology of the Round heads and the lifestyle of their producers
Chapter 6. Round Heads in the Central Saharan context
Chapter 7. Approaching interpretation
Chapter 8. Conclusion
How to get the dissertation?
To have the dissertation please donate at least 15 $ , 15 € or 15 Ł and you will be sent the eBook to your email.
Thank you for you support!